No man is an island!  You were created for fellowship.  That is the way God meant it to be from the beginning of time.  The church and the Family of God is how He wants us to live in fellowship today!
15 The

Lord

God took the man and placed him in the garden of Eden to work it and watch over it. 16 And the

Lord

God commanded the man, "You are free to eat from any tree of the garden, 17 but you must not eat from the tree of the knowledge of good and evil, for on the day you eat from it, you will certainly die." 18 Then the

Lord

God said, "It is not good for the man to be alone. I will make a helper as his complement." 19 So the

Lord

God formed out of the ground every wild animal and every bird of the sky, and brought each to the man to see what he would call it. And whatever the man called a living creature, that was its name. 20 The man gave names to all the livestock, to the birds of the sky, and to every wild animal; but for the man no helper was found as his complement. 21 So the

Lord

God caused a deep sleep to come over the man, and he slept. God took one of his ribs and closed the flesh at that place. 22 Then the

Lord

God made the rib He had taken from the man into a woman and brought her to the man. 23 And the man said:
This one, at last, is bone of my bone




and flesh of my flesh;




this one will be called "woman,"




for she was taken from man.
24 This is why a man leaves his father and mother and bonds with his wife, and they become one flesh. 25 Both the man and his wife were naked, yet felt no shame.
Genesis 2:15-25 HCSB
20 I pray not only for these,


but also for those who believe in Me




through their message.


21 May they all be one,


as You, Father, are in Me and I am in You.




May they also be one in Us,




so the world may believe You sent Me.


22 I have given them the glory You have given Me.


May they be one as We are one.


23 I am in them and You are in Me.


May they be made completely one,




so the world may know You have sent Me




and have loved them as You have loved Me.


24 Father,


I desire those You have given Me




to be with Me where I am.




Then they will see My glory,




which You have given Me




because You loved Me before the world's foundation.


25 Righteous Father!


The world has not known You.




However, I have known You,




and these have known that You sent Me.


26 I made Your name known to them


and will make it known,




so the love You have loved Me with




may be in them and I may be in them.
John 17:20-26 HCSB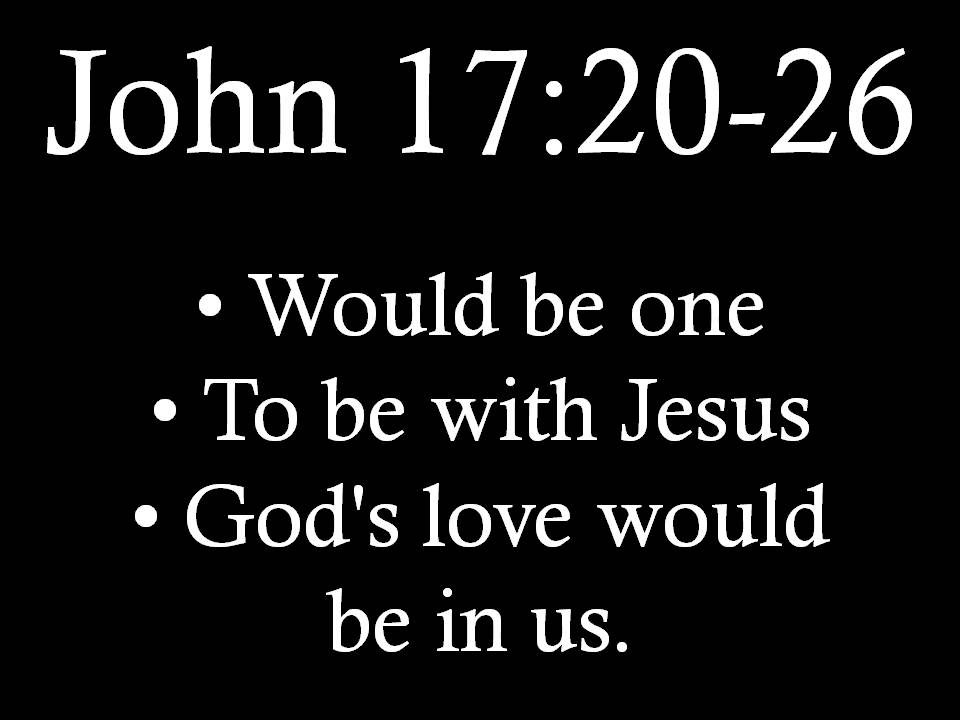 For where two or three are gathered together in My name, I am there among them.
Matthew 18:20 HCSB
Let us hold on to the confession of our hope without wavering, for He who promised is faithful. And let us be concerned about one another in order to promote love and good works, not staying away from our worship meetings, as some habitually do, but encouraging each other, and all the more as you see the day drawing near.
Hebrews 10:23-25 HCS
The Lord said, "If they have begun to do this as one people all having the same language, then nothing they plan to do will be impossible for them.
Genesis 11:6 HCSB
Peace,
Todd